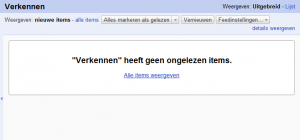 Het kan natuurlijk aan mij liggen, maar ik vraag me af of we op het moment te maken hebben met een dip in het nieuws. Nou had ik het de afgelopen paar dagen wat drukker met andere dingen, vrijdag de HBO-fietstocht, zaterdag de eerste twee buitenduiken als onderdeel van de PADI Open Water training, maar ook vanochtend weer weet Google Reader nauwelijks nieuws te brengen.
En zelfs het "Verkennen" venster, waar Google Reader berichten toont van feeds waar je weliswaar niet op geabonneerd bent maar waarvan Google Reader op basis van jouw feeds denkt dat je die interessant zult vinden, is alweer leeg.
Wellicht trekt het ook weer aan als weblog.nl eindelijk klaar is met de migratie van haar 389.957 weblogs. Daar zijn ze al een dag of vijf mee bezig. Helaas zijn ze zo snugger geweest om de RSS-feeds van al die weblogs (tijdelijk) te 'vervangen' door die van hun eigen site. Maar zodra er iemand bij het bericht over de migratie reageerde dan werd die RSS-feed vernieuwd. Maar omdat diezelfde feed niet aan één weblog hangt, maar blijkbaar aan ze allemaal, kreeg iemand die de RSS-feed van meerde weblog.nl blogs volgt, die berichten meerdere keren. Ik heb dus de hele conversatie (en er waren veel reacties) vaken voorbij zien komen dan me lief was.
Nou ja, hoe dan ook. Geen sprake van een dip in de motivatie wat mij betreft, maar minder nieuws betekent ook minder posts.