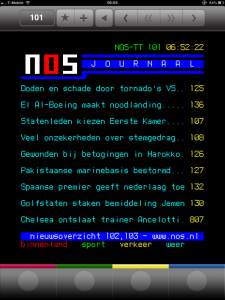 De BBC startte er mee in 1973/1974, de NOS pas in 1980. Het had in Nederland bij de start een bereik van 700 mensen, in 2000 kon 93% van de TV kijkers er gebruik van maken (bron): Teletekst.
Je kunt teletekst inmiddels al lang niet meer alleen op je TV bekijken. Er bestaat ook een versie die je in je browser kunt bekijken. En er was al een tijdje een versie voor de iPhone. Die versie is nu bijgewerkt zodat ook de iPad ondersteund wordt.
Zoals je aan de screenshot kunt zien, is de opzet ook nu gelijk gebleven. Dat zorgt op de iPad voor nog wat grotere en grovere letters dan je van de andere media gewend bent.
Zelf maak ik regelmatig gebruik van de iPhone versie van teletekst. Om onderweg de stand van zaken in de Eredivisie of de Formule 1 te bekijken als ik op dat moment niet in de buurt van een TV kan zijn. Soms ook wel voor nieuwsberichten, maar daar voor is internet dan vaak weer een handigere plek, met uitgebreidere informatie.
De vraag die bij mij daarom ook op kwam was of het niet tijd was dat teletekst ook mee gaat veranderen met de tijd. Een iPad applicatie die er exact zo uitziet als wat je op TV gewend bent is natuurlijk herkenbaar en daardoor eenvoudig te gebruiken. Maar het is een interface die geoptimaliseerd was voor een heel ander medium dan de iPad.
Gebruik jij de teletekst applicatie wel eens op je iPhone of iPad? Zo ja, moet die er vooral zo uit blijven zien of is er een frisser jasje nodig?