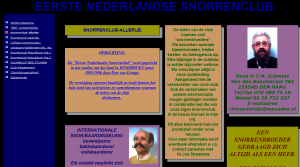 Daar waar mensen iets gemeenschappelijk hebben, zoeken ze elkaar op en starten ze een vereniging of club om te laten zien dát ze iets gemeenschappelijk hebben. Zo ook bij snordragers en er blijken in Nederland en België een aantal clubs te zijn van snordragers.
Zo kwam ik tegen:
De websites zijn allemaal erg kleurrijk en voorzien van verstandige uitspraken als "EEN SNORREMAN IS TROTS OP ZIJN PRONKSTUK ONDER DE NEUS!! DAARAAN HERKEN JE ECHTE MANNEN!  ZIJN FORSE SNOR/BAARD IS ZIJN WARE KENMERK. SCHAAR EN MES HEBBEN DAARAAN GEEN WERK!!" (bron)
Ik vraag me dan ook af wat ze van mijn voornemen zouden vinden om mijn snor af te laten scheren vrijdag. Maar ja, waarschijnlijk voldoet mijn snor in omvang niet eens voor een plekje in zo'n club.
Dit bericht is het tiende bericht in een serie waarmee ik aftel naar 24 december 2010. Dan scheer ik mijn snor af als onderdeel van de Allessnor actie voor Serious Request / Het Glazen Huis. Wil jij mij of een van de andere snorders sponsoren? Dat kan! Kijk hier voor meer informatie.