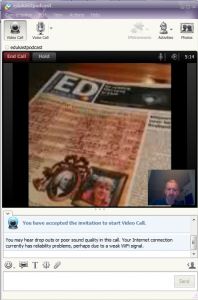 Terwijl we nog steeds aan het wachten zijn op Skype voor iPhone met ondersteuning voor video en Fring weliswaar video ondersteund, maar geen desktop applicatie heeft, komt Yahoo! met een update voor hun messenger applicatie voor de iPhone die dat wel heeft.
Een gebruiker die Yahoo! messenger op zijn Windows laptop of Mac heeft geïnstalleerd, kan dan een videoverbinding opzetten met een gebruiker die een iPhone 3 of iPhone 3GS heeft (weet niet of het op de nieuwe iPod Touch met camera werkt).
De ontvangen video van laptop naar iPhone 3GS was prima (zie screenshot hieronder), de video die de laptop van mijn iPhone 3GS ontving was redelijk bagger (zie screenshot hiernaast). De applicatie claimde dat er iets niet goed was met mijn WiFi-verbinding, maar die gaf op de laptop en de iPhone gewoon volledige sterkte aan.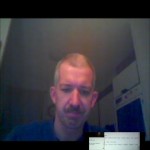 Ik neem aan dat de kwaliteit van de verzonden video op een iPhone 4 beter is dan op mijn iPhone 3GS. Ik kan me ook voorstellen dat ze het in zo'n eerste versie allemaal wat voorzichtig afgesteld hebben voor wat betreft de hoeveelheid werk die ze de iPhone laten doen bij het verzenden van video. Hoe dan ook zal het nog wat beter moeten worden om bruikbaar te laten zijn voor serieuze gesprekken. De kwaliteit van de Fring-Skype video was overigens ook niet echt beter (zie deze screenshot)
Vraag is ook of het Skype een reden geeft om wat meer vaart te maken met het updaten van hun client voor de iPhone.  We zullen zien.