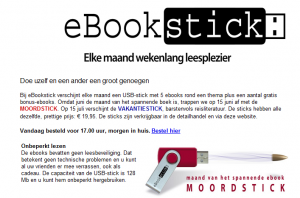 Dit is er eentje in te categorie "hier moet ik nog eens rustig over nadenken". De eBookstick is een USB-stick met daarop een aantal elektronische boeken. De boeken worden geleverd in ePUB formaat, al zit er in juli ook eentje in PDF formaat tussen.
Thema van de maand juni is "MOORDSTICK", in juli is het "VAKANTIESTICK". Op de editie van juni staan 5 thrillers en 2 bonusboeken, gezamenlijke waarde (ik neem aan op papier) is 72,20 euro. Als USB-stick koop je hem voor 19,95 euro.
Goed vind ik het feit dat de boeken zonder DRM worden geleverd en je ze dus bijvoorbeeld zonder problemen op je iPad, Kindle (na conversie), je iPhone of iPod Touch, je Sony eReader of je Android telefoon kunt lezen.
Wel vind ik het raar om een elektronisch boek op een fysiek medium te kopen. En de set van vijf moet je natuurlijk ook maar net even goed bevallen. Dat laatste is natuurlijk iets dat ook voor fysieke boeken geldt. En ook daar zul je ze niet altijd vooraf kunnen doorbladeren. De prijs lijkt me ook wel weer heel vriendelijk.
Het lijkt me echter wel verstandig om iets van een ePUB-reader op de stick te zetten. Eentje die je niet hoeft te installeren en bij voorkeur zowel onder Windows en Mac werkt. Want anders moet je aan een klant gaan uitleggen dat ze extra software moeten installeren op hun systeem om de boeken te kunnen lezen. En aangezien de doelgroep waarschijnlijk geen aparte eReader heeft, zou dat voor verwarring kunnen zorgen.
Ik ben benieuwd of het aanslaat.
(getipt door ereaders.nl)