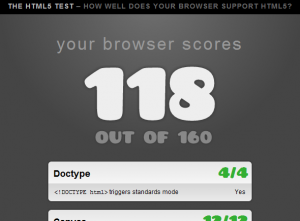 Natuurlijk is het slechts een momentopname en natuurlijk is de test niet uitputtend. Maar de verschillen waren op punten toch wel aanzienlijk en daarom vond ik het een post waard. Op http://html5test.com/ kun je testen hoe goed de browser die je nu gebruikt om kan gaan met een aantal van de nieuwe features van HTML5.
Ik heb de tests even bekeken met zo veel mogelijk browsers waar ik zo hier toegang to had en het leverde een aardige ranking op. Maximale score is 160 punten, dit zijn de verschillende browsers:
Mobile Safari op iPod Touch met OS 3.0 – 110 punten
Mobile Safari op iPhone met OS 3.1.2 – 113 punten
Safari 4.0.5 op Windows 7 – 115 punten
Firefox 3.6.3 op Windows 7 – 101 punten
Opera 10.51 op Windows 7 – 102 punten
Internet Explorer 8.0.7600.16385  op Windows 7 – 19 punten (nee, geen typo, negentien punten)
Google Chrome 4.1.249.1045 op Windows 7 – 118 punten

Google Chrome 5.0.371.0 op Windows 7 – 142 punten
De testpagina geeft een detailoverzicht van de verschillende onderdelen die getest worden. Als iemand de tests op een Mac of Linux wil draaien, dan hoor ik de resultaten graag (hieronder in de reacties).
Met uitzondering van Internet Explorer 8 laat de pagina in ieder geval zien dat de meeste recente browsers een aardig deel van de functionaliteiten van HTML5 nu al ondersteunen. Google laat duidelijk zien dat ze zich volledig achter HTML5 geschaard hebben. Dat kun je ook wel voor Apple stellen. Als je er rekening mee houdt dat Chrome 5 nog een developers editie is (en nog niet helemaal stabiel) dan liggen beide versie 4 browsers (Safari en Chrome) heel dicht bij elkaar wat betreft score.
Het is toch wel fijn als een standaard al op stevige support kan rekenen nog voordat hij helemaal definitief is.