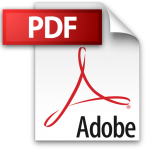 In een ietwat technisch ogende, maar eigenlijk heel leesbare post beschrijft Bill McCoy de afwegingen en aandachtspunten bij het kiezen van het meest geschikte export formaat voor PDF-bestanden. Daarbij staat dan voorop dat je wilt dat ze in zo veel mogelijk programma's  en op zo veel mogelijk apparaten te lezen zijn.
Korte samenvatting van het advies: gebruik PDF/A (ook wel bekend als  PDF 1.4 of "Save As Acrobat 5 Compatible") voor maximale uitwisselbaarheid en gebruik eventueel PDF/A-1b.
In zijn bericht legt Bill uitgebreid uit waarom dat ook op bijvoorbeeld een iPhone, een Mac of een Kindle, Nook of Sony eReader zou moeten werken. Voor veel van die apparaten is ePUB als formaat nog een stukje handiger, maar het gemak van het kunnen produceren van PDF-bestanden kan voldoende reden zijn om (ook) voor dat formaat te kiezen.