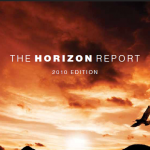 Net als vorig jaar heeft het New Media Consortium samen met het EDUCAUSE Learning Initiative weer een editie van The Horizon Report opgeleverd.
En, net als Wilfred Rubens deed, nam ik meteen ook even het rapport van vorig jaar erbij om te zien wat er van die voorspellingen terecht gekomen was. En ik vind in het rapport eigenlijk geen enkele bewuste terugblik op die voorspellingen terug. Enerzijds logisch als je kijkt naar de methode van samenstellen:
The technologies featured in each edition of the Horizon Report are embedded within a contemporary context that reflects the realities of the time, both in the sphere of academia and in the world at large. To assure this perspective, each Advisory Board researches, identifies, and ranks key trends that are currently affecting the practice of teaching, learning, and creative inquiry, and uses these as a lens for its later work. These trends are surfaced through an extensive review of current articles, interviews, papers, and new research. Once identified, the list of trends is ranked according to how significant an impact they are likely to have on education in the next five years.
Op deze manier kom je inderdaad elk jaar wel bij een nieuw lijstje. Maar een extra stap waarbij ook verschuiving van de onderwerpen ten opzichte van vorig jaar wordt vastgesteld lijkt me eigenlijk wel nodig.
Toch de topics van toen en nu maar even naast elkaar:
Tijdshorizon
2009
2010
Volgend jaar
* Mobiles
* Cloud Computing
* Mobile Computing
* Open Content
2-3 jaar
* Geo-everything
* The personal web
* Elektronic Books
* Simple Augmented Reality
4-5 jaar
* Semantic Aware Appliations
* Smart Objects
* Gesture Based Computing
* Visual Data Analysis
Mobile computing blijft als constante factor, bij de 'nieuwe' topics die in 2010 genoemd worden geen echt onbekende zaken al is de keuze voor de plaatsing in de tijd en de feit dat ze juist nu dit jaar zijn opgenomen soms een verrassing. Ik realiseer me dat het ook niet de bedoeling is om het te lezen als "het gaat volgend jaar gebeuren" maar als "het is een technologie die al volwassenheid nadert en ingezet kan gaan worden". De wijze waarop dat moet gebeuren, blijft onduidelijk.
Als gevolg daarvan leest het rapport ook meer als een richtingwijzer voor toegepast onderzoek. Dus als in: "dit zijn de topics die de moeite van het verder onderzoeken waard zijn".  Blijft het kritiekpunt dat ik vind dat ze ook aan terug-rapportage zouden moeten doen achter. Dus in de trand van "dit zijn de activiteiten die op het gebied van Smart Objects afgelopen jaar hebben plaats gevonden en dit zijn de lessen die we daar uit kunnen trekken".