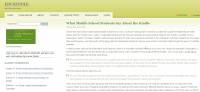 Nou ja, een beetje ongelijk, afhankelijk van hoe je er tegenaan kijkt.
Het begon met een tweet van Bert Frissen eerder vandaag. Daarin verwees hij naar een blogpost bij EduKindle getiteld "What Middle School Students Say About the Kindle".
Ik dacht al "daar gaan we weer, vast weer zo'n school waar ze een doos met Kindles naar binnen gedragen hebben zodat de kinderen geen boeken meer hoeven, geen idee gehad hebben van de content die er op moest en waar ze nu negatief zijn over die Kindle".
Maar het was niets van dat alles. Hoewel ze wél de Kindle 2 als uitgangspunt genomen hebben blijkt het geheel dusdanig in een positieve sfeer geïntroduceerd te zijn dat de kinderen ook gewoon met het apparaat aan de slag zijn gegaan. De blogpost beschrijft hun positieve reacties.
Blijft overeind dat ik van mening ben dat wij ons in het hoger onderwijs niet te veel moeten blindstaren op de eReaders zelf (en dan bedoel ik de hardware zoals de Kindle en Sony apparaten). We moeten het ruimer zien: het gaat om het waar en wanneer ik dat wil (ik weiger "Any Time / Any Place" te gebruiken want dat begrip is al zo misbruikt in het onderwijs) kunnen lezen van al het materiaal dat ik anders in dikke boeken, ordners of vellen papier zou moeten proberen mee te slepen. De eBook readers leveren daarbinnen één optie.
Het verhaal zal overigens vast niet zoveel aandacht krijgen bij de grote blogs als wanneer de leerlingen hadden gezegd dat ze zo'n Kindle helemaal niks vinden. Dán was het voorpagina nieuws geweest.