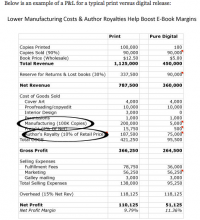 "With all the buzz around e-readers, analysts expect big numbers out of hardware sales and e-book consumption. While hardware sales may experience huge growth in the coming years, we believe many underestimate the losses companies like Amazon will need to weather before selling e-books becomes a meaningfully profitable business.
Currently companies like Amazon lose about $2 for every e-book (we discuss this below). So, if it sells one million e-books the company loses about $2 million."

(bron)
Op TBIResearch is een artikel verschenen over de, volgens hen, op de langere termijn onhoudbare situatie waar Amazon zich in bevindt als het gaat om de verkoop van elektronische boeken. Blijkbaar hanteren de uitgevers in de VS op dit moment een soort groothandelprijs voor boeken van $12,- (elektronisch en op papier). Amazon koopt dus elektronische boeken in voor dat bedrag. Maar veel van die boeken worden door Amazon voor $9,99 verkocht. Daar verliest Amazon dus $2,- per boek op. Dat is een situatie die moeilijk/niet vol te houden is als het aantal elektronische boeken dat verkocht wordt daadwerkelijk zo blijft stijgen als iedereen zegt.
In het artikel staat ook een tabel met de verschuiving in kosten en opbrengsten waar een uitgever mee te maken krijgt bij een overstap van boeken op papier naar elektronische boeken.
Conclusie van de auteur van het artikel: de auteurs zijn het haasje.
In de reacties staan de nodige kritische noten met betrekking tot die analyse, o.a. met betrekking tot het 100% elektronisch scenario (niet realistisch, zeker niet op de korte termijn), het vaste percentage royalty's voor auteurs dat genoemd wordt (is nu voor verschillende media ook niet hetzelfde) en het probleem dat dezelfde marge op de helft van de inkomsten hebben toch betekent dat je de helft van het geld binnen krijgt dat je voorheen binnen kreeg.
We zijn er dus met zijn allen nog lang niet uit. Wel is het probleem van het niet in bad kunnen lezen van eBooks definitief opgelost: Jeffrey P. Bezos (baas van Amazon) geeft het advies om een grote (hersluitbare) diepvrieszak te gebruiken. Een gallon is ongeveer 4 liter, dus neem de grote zakken. Ik weet niet of ik dat ga durven met mijn DX, verwacht dus hoe dan ook voorlopig geen actiefoto's wat dat betreft.