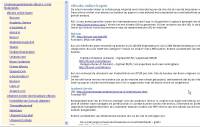 Hoewel ik me bijna schuldig begin te voelen door het grote aantal eBook gerelateerde berichten de laatste tijd, zorgden een Tweet van Carla Desain en een vraag op de wiki voor de sessie van woensdag er voor dat ik toch al een eerste aanvulling op het handboek gemaakt heb. En dus nog een extra blogpost om je op de vraag en mijn aanzet voor een antwoord te wijzen.
Carla reageerde op mijn tweet van vorige week waarbij ik me afvroeg wanneer we de eerste eBooks zouden kunnen terug zien in de lijst boekrecensies van Vives. Nu dus de vraag van Carla dus: welk eBook als eerste?
Het moet, gezien de lezersgroep van Vives, bij voorkeur een boek in het Nederlands zijn en uiteraard gericht op het onderwijs.
Op de wiki kregen we de vraag welke eBooks door uitgevers meegeleverd worden (en daar zijdelings aan verbonden de vraag hoe eBooks in de bibliotheek catalogus kunnen worden opgenomen).
Nou ben ik sowieso van mening dat voor een recensie niet echt uitmaakt of je een boek op papier of op een eBookreader gelezen hebt. Het ging er mij vooral om dat bij de informatie over het boek bij zo'n recensie dan ook zou worden aangegeven als/of het ook als eBook te koop is. Maar goed, op zoek naar onderwijsgerelateerde eBooks in het Nederlands. Lees verder….