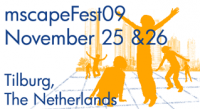 "Mscape is een (gratis) programma waarmee je routes kunt uitzetten op een mobiele telefoon of een ander apparaat met GPS dat draait op Windows Mobile (maar dat kan natuurlijk anders worden). Aan die locaties op die route kan je verschillende bestandjes koppelen: teksten, plaatjes, geluidsbestanden of video's. Als degene die de route loopt op zo'n locatie komt opent zich het bestand. Op die manier kan je vrij eenvoudig een spel maken waarbij de spelers op een route opdrachten krijgen of informatie moeten verzamelen waarmee ze een probleem kunnen oplossen."

(bron)
Ik ken Mscape alleen van de verhalen erover. Ik beloof dat ik het meteen ga testen als ook de iPhone versie van de software beschikbaar komt (je hebt nu Windows Mobile nodig). De collega's van Fontys PTH weten er wél heel veel van en zijn al lang actief met Mscape. Het is dan ook niet heel gek dat Fontys gastheer is van het Mscape-fest 2009 op 25 en 26 november in Tilburg.
Deelname aan Mscape-fest is helemaal gratis, inschrijven kan nu via de website. Je kunt je inschrijven voor beide dagen of een van de twee dagen. Er worden deelnemers vanuit binnen- en buitenland verwacht, dus als je altijd al meer van Mscape had willen weten, dan is dit dé kans!