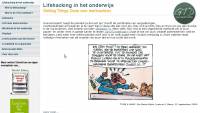 Ik kreeg een mailtje van Frederick Van Gysel. Hij wees me op zijn site: Lifehacking in het onderwijs. Ik kende de site nog niet, wel Lifehacker.com en Lifehacking.nl.
Ik moet ook bekennen dat ik nooit zo veel met dit soort sites kan. Natuurlijk, de lifehacker-site is leuk om te bezoeken om te zien wat er allemaal aan trucs voor "dagelijks gebruik" zijn. Maar voor veel van de andere van de op dit soort sites genoemde uitgangspunten en tips geldt dat ik ze ofwel in een of andere vorm toe pas ofwel gewoon geen zin heb om het zo te doen.
Maar wellicht komt het ook wel omdat ik niet zo'n last heb van "informatie-overload" of planlast (ik kende dat woord niet eens). Ik vind juist een bepaald niveau van "stress" prettig om lekker te kunnen produceren en heb geleerd om dat niveau steeds op te zoeken.
Heb jij er echter wél last van en ben je in het onderwijs actief, dan kun je dus ook bij Lifehacking in het onderwijs terecht.