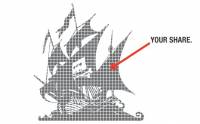 "Global Gaming Factory X AB (publ) (GGF) acquires The Pirate Bay website,

http://www.thepiratebay.org

, one of the 100 most visited websites in the world and the technology company Peerialism, that has developed next generation file-sharing technology. Following the completion of the acquisitions, GGF intends to launch new business models that allow compensation to the content providers and copyright owners. The responsibility for, and operation of the site will be taken over by GGF in connection with closing of the transaction, which is scheduled for August 2009."

(bron)
Toch wel verrassend nieuws vanochtend: de eigenaren van The Pirate Bay, op dit moment de grootste torrentsite ter wereld, verkopen hun site aan het Zweedse softwarebedrijf Global Gaming Factory X AB. Ze vangen er 60 miljoen Zweedse Kronen voor, dus ongeveer 5 miljoen Euro.
Op de website van het bedrijf staat een uitgebreid persbericht (PDF) en het nieuws is inmiddels bevestigd door The Pirate zelf.
De reacties op dat bericht zijn uiteraard niet positief. Gebruikers van de site zijn ofwel bezorgd, of voelen zich verraden.
Het geld komt in een fonds dat "is going to help with projects about freedom of speech, freedom of information and the openess of the nets". Het geeft ze in ieder geval de ruimte om, mocht het er toch van komen, de 2,3 miljoen euro te betalen waar ze onlangs toe veroordeeld werden.
Voor het overige is het afwachten. Ik ben benieuwd of het overnemende bedrijf het geld ooit kan terugverdienen. Als het de site wil ontdoen van alles wat niet als legaal gezien wordt, dan zullen de gebruikers weg blijven. En anders zijn ze heel erg afhankelijk van het hoger beroep dat The Pirate Bay heeft aangespannen.
Wordt vervolgd…