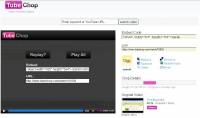 Voor streaming WMV-video of audio hebben we al heel lang de beschikking over de Virtuele Snijmachine. Daarmee kun je relatief eenvoudig een bestandje maken waarmee je delen van online video of audio kunt afspelen.
Het idee daarachter is dat je geen lokale kopie hoeft te maken van de audio of video, maar toch het afspelen kunt beperken tot die delen die je wilt hebben. Ik gebruikte het afgelopen week toen ik het tweede deel van de online audiostream van het radioprogramma De Peiling in een pagina wilde invoegen.
TubeChop is een site die je kunt zien als heel eenvoudige versie van de snijmachine voor YouTube filmpjes. Je geeft er het adres van een YouTube filmpje door en kunt dan begin- en eind-punt aangeven.
Het resultaat is dan een nieuw 'filmpje' dat precies dat stuk van het oorspronkelijke YouTube filmpje afspeelt. Dat nieuwe filmpje kun je bij Tubchop zelf bekijken, maar ook invoegen in andere pagina's. Ik heb hieronder bijvoorbeeld een stukje van de langere video over Kindlepedia opgenomen:

Je kunt het fragment ook op deze pagina bekijken.
Ik kan me voorstellen dat het met name ook in het onderwijs handig is. Je zou als docent heel eenvoudig die fragmenten van filmpjes die je wilt laten die kunnen opslaan en met één klik kunnen oproepen. Geen gezoek meer naar het juiste stukje.
Zeker als je bijvoorbeeld vragen wilt stellen bij een langere film dan is het kunnen verwijzen naar het fragment waar de vraag over gaat heel handig. YouTube maakt het wel mogelijk naar een beginpunt te verwijzen, maar nog niet naar een eindpunt.
De interface is eenvoudig, de site toont geen extra advertenties, laat op de eigen pagina duidelijk zien dat het om een fragment gaat en linkt terug naar het origineel.
De discussie over "mag dit?" laat ik daarom graag even voor wat hij is.
Hou er wel rekening mee dat je hiermee van nóg een extra website afhankelijk bent. Als TubeChop uit de lucht is kun je de fragmenten niet bekijken.
En op dit moment kan de site nog niet goed overweg met het beeldformaat van de YouTube filmpjes. Daarom zie je hierboven zwarte balken, dat hoeft niet als ze de verhoudingen goed kiezen. Zal vast opgelost worden.