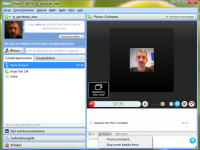 Er is een nieuwe bèta van Skype beschikbaar, 4.1 bèta. Nieuw in deze versie is dat je, zonder extra plugins, je scherm (geheel of in delen) kunt delen met de persoon waar je mee 'belt'.
Skype gebruikt voor het versturen van het beeld van je desktop de videostream. En dat betekent ook dat je niet zowel je webcambeeld als het beeld van je desktop door kunt sturen. Dat is jammer natuurlijk.
Wel prettig is dat het (daarom?) ook werkt bij gesprekken tussen de bèta en (in ieder geval) Skype versie 4.0
(getipt door The Download Blog)
p.s. Toen ik het bericht gelezen had op The Download Blog zocht ik via Google de juiste link voor het downloaden van de bèta.
Het resultaat zag er zo uit: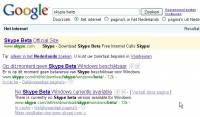 Nu wist ik dat we wél een bèta zou moeten zijn en klikte ik toch op de link. Maar het laat wel zien dat je er rekening mee moet houden dat, hoewel Google vaak langs komt, die informatie soms ook achterhaald kan zijn.