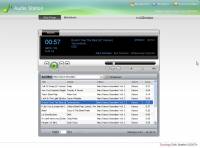 Zoals je weet is Last.fm niet langer gratis. In de reacties op mijn bericht daarover worden een aantal alternatieven genoemd. Maar geen kan eigenlijk over de hele breedte de functionaliteiten van Last.fm vervangen: * breed, wisselend aanbod van muziek die ik al kende en nog niet kende.
* geen onderbreking door reclame of geklets van DJs.
* systeemtray toepassing die niet in de weg zit.
* applicatie om ook via mijn iPod Touch naar de muziek te luisteren.
Sommige alternatieven verwachten dat je zelf per track je muziek uitkiest, of een playlist maakt die je dan afspeelt. Anderen kunnen alleen in de browser afgespeeld worden en weer anderen verwachten dat je zelf je muziek upload naar de dienst om die dan via de browser te kunnen beluisteren.
En het was eigenlijk die combinatie van 'onhandigheden' die me deed realiseren dat ik die functionaliteit al lang ter beschikking had zónder afhankelijk te zijn van een externe dienst die vandaag of morgen mogelijk besluit om er mee op te houden of om geld te vragen.
Mijn Synology 207+ heeft namelijk een Audio Station functionaliteit die het sinds een tijdje (nieuwe firmware nodig) niet alleen mogelijk maakt om de muziek via een aantal aangesloten USB speakers te beluisteren, maar ook via een browser op internet.
Ik heb het gisteren vanaf mijn werkplek uitgeprobeerd en het werkt prima. Ik heb toegang tot alle playlists die ik al aangemaakt heb, kan (als ik dat zou willen) zelfs nieuwe playlists aanmaken.
Ik heb de Firefox plugin "MinimizeToTray" gehackt zodat hij ook in Firefox 3 werkt (er staat hier ook een versie online die al gehackt is, die heb ik niet getest). Ik open het Audio Station in zijn eigen Firefox window en verklein die dan naar de systeemtray. Daar blijft de muziek gewoon doorspelen terwijl ik verder werk.
Ik verwacht niet dat Synology een echte standalone applicatie uitbrengt en op de iPod touch werkt hij nog niet, maar voor nu ga ik eerst maar weer eens wat uitgebreider naar mijn eigen muziek collectie luisteren. Dan maar geen Web 2.0 audio.