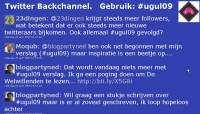 Het wordt inmiddels ook in onderwijs- (en bibliotheek-) kringen een steeds gebruikelijker verschijnsel tijdens congressen en conferenties: het gebruik van Twitter als 'backchannel' voor/door de deelnemers.
Er wordt een 'hashtag' afgesproken zodat, als je die tag gebruikt in je tweet, deze eenvoudig terug te vinden zijn én bijvoorbeeld in een Twitterfountain weergegeven kunnen worden.
Zo ook afgelopen donderdag bij UGame-ULearn in Delft.
Een vraag die dan al snel ontstaat is of het niet leuk / handig / zinvol is om die stroom met tweets ook tijdens de sessies te projecteren. Nou weet ik dat het voor een spreker die een sessie staat te geven pittig kan zijn als dat backchannel ook nog achter hem/haar zichtbaar is, maar tijdens bijvoorbeeld een afsluitende forumdiscussie kan het zeker het nodige toevoegen.
En je kunt er natuurlijk ook voor kiezen om het backchannel niet in de zaal, maar bijvoorbeeld op de informatiemarkt te tonen.
Of Twitterfountain daar het meest overzichtelijk voor is, is dan even de vraag. Willem Karssenberg had met behulp van Tweetgrid een veel rustiger backchannel opgezet. Zo zou je het prima kunnen projecteren.
Probleem was echter dat de hashtag (in dit geval #ugul09) dusdanig vaak gebruikt werd dat hij ook op de voorpagina van Twitter.com kwam. Dat is op zich natuurlijk niet erg, maar daardoor werd hij ook opgepikt door een aantal spammers (zie ook deze foto).
Daar is weinig aan te doen, maar voor een backchannel dat je projecteert in een zaal is dat niet fijn.
En dus wilde ik een backchannel waarbij ik moderatie kon toepassen en waarbij ik eenvoudig de spammers uit de getoonde stream wilde kunnen filteren. Lees verder….