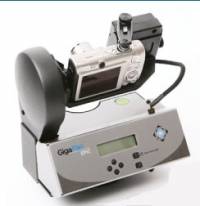 Ik had de berichten over het enorme panorama dat gemaakt was tijdens de inaugeratie van Barack Obama wel in een aantal berichten voorbij zien komen, maar gewoon nog niet doorgeklikt omdat ik wel even genoeg foto's van Obama gezien had. Het bericht bij Gizmodo had ook een foto van het Gigapan EPIC Imager systeem waarmee de foto gemaakt was en daarom klikte ik toch even door naar de site.
En ik moet bekennen dat ik niet weet of ik dit nu een schitterend hulpmiddel vind bij het maken van perfecte panorama's, of dat het gewoon een stukje hardware is dat na twee keer gebruiken stof gaat verzamelen in de kast omdat het gewoonweg te complex is in gebruik.
Op de site van Gigapan staat een serie filmpjes online met uitleg bij het gebruik. Ik heb ze allemaal bekeken en voelde al nattigheid bij het eerste filmpje toen in detail uitgelegd werd hoe je de batterijen moest vervangen.
Het duurde overigens ook even voordat ik door had dat de meneer in deze filmpjes niet zomaar een zotte prof was die gespeeld had met het apparaat, maar een medewerkers van GigaPan. Het helpt waarschijnlijk als je weet dat het een commerciële spin-off is van NASA en de Carnegie Mellon universiteit.
Hoe dan ook, de panorama's op GigaPan.org zijn best mooi, zeker ook de 360graden versies die voorzien zijn van coördinaten en daarom in Google Earth te bekijken zijn.
De prijs van $380 vind ik ook niet zo gek (al komt daar bij import naar Nederland natuurlijk nog BTW en zo bij), zeker niet als je het vergelijkt met dit soort software (er zijn ook gratis tools).
Geen zin om zoveel geld uit te geven? Kijk dan ook eens bij deze pagina met panorama foto's met coördinaten en de bijbehorende uitleg.