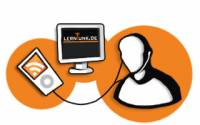 "The virtPresenter Framework is designed for automatic production of lecture recordings. It can be scaled easily and is avaialbe as open source software. The manual effort for technicians and support has been reduced on less than one-eighth of the recording-time. Possible output formats are: Video and slides synchronously in a flash based webinterface, audio podcast, video podcast and enhanced podcast."

(bron)
Op de Opencast website kwam ik een beschrijving van een interessant systeem voor het opnemen van presentaties/colleges tegen. Het heet virtPresenter. Net als bij Replay gaat het hier op een open source, software oplossing ontwikkeld door een consortium van univesiteiten, met de Universiteit van Osnabrück als hoofdontwikkelaar.
Het systeem maakt gebruik van software op de computer van de spreker om het beeld door te sturen naar de opnameserver. Dat betekent in dit geval dat het alleen op Windows computers werkt en je bij een gastspreker die geen gebruik kunt laten maken van de eigen laptop.
Onder aan de pagina met de beschrijving van de software staat een link naar Lernfunk.de. Een online, publiekelijk toegankelijke repository van opnames van nu met name de Universiteit van Osnabrück.
Niet allemaal audio, video en slides, soms ook alleen audio, of afbeeldingen en audio. Voorzien van RSS-feed zodat je de opnames in iTunes kunt downloaden en bekijken. Tot op dit moment 956 opnames.
Kortom, het hele verhaal en gewoon voor iedereen die het Duits machtig is te bekijken en te beluisteren.
Zo hoort het. Mooi.
(bron afbeelding: lernfunk)