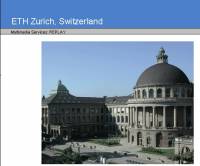 Ik was gisteren bij de sessie REPLAY: An Integrated and Open Solution to Produce, Handle, and Distribute Audiovisual Lecture Recordings. Olaf Schulte van de Universiteit in Zurich, Zwitserland vertelde over de open source oplossing die ze daar gebruiken voor het maken van opnames van colleges/presentaties.
En ik moet zeggen, het was een mooi systeem. Het was duidelijk dat ze over elk onderdeel goed nagedacht hadden en het systeem bevat features die je ook bij de grote commerciële spelers tegen komt.
Dat varieert van een geavanceerde viewer met zoekopties, eenvoudige bladeropties etc. tot een systeem waarbij opnames automatisch gearchiveerd worden als ze lang niet bekeken worden. Ze blijven dan wel beschikbaar, dus als iemand de opname dan toch wil bekijken, dan wordt hij automatisch terug geplaatst. Lees verder….