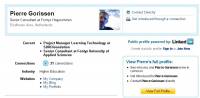 Toen ik vanmiddag mijn Outlook Contactpersonenlijst aan het bijwerken was (tja, wat doe je zoal op een zondagmiddag) kwam ik weer eens bij een LinkeIn profiel pagina die ik alleen kon zien als ik zelf ook ene profiel had. Het was van een van mijn contacten die inmiddels al een keer of twee van functie en baan veranderd was en waarvan ik gewoon even niet meer wist of de contact gegevens die ik van hem had in Outlook nog actueel waren.
Ik heb lange tijd gevonden dat ik aan één lidmaatschap van een profielsite meer dan genoeg had. Maar vandaag ben ik overstag gegaan en heb een LinkedIn-profiel aangemaakt.
Na het toevoegen van wat info over mezelf wilde ik natuurlijk ook anderen uitnodigen/linken. Daarvoor kun je bij LinkedIn "heel gemakkelijk" je contactpersonen van Outlook importeren. Nou ja, je moet ze bij Outlook eerst naar CSV exporteren en dan in LinkedIn importeren.
Het was grappig om te zien hoeveel mensen die ik ken al een LinkedIn profiel hebben. En ik dacht dat ik de selectie voor het versturen van uitnodigingen beperkt had tot alleen die mensen.
Maar blijkbaar heeft LinkedIn naar alle contactpersonen en mailadressen in mijn Outlook contactpersonen lijst nu een uitnodiging gestuurd. Dat waren er (ik had opgeruimd) in totaal 375. Slik.
Niet dat er mensen tussen zitten waarvan ik niet wil dat ze de uitnodiging accepteren, maar er zitten ook heel veel mensen tussen die geen LinkedIn account hebben én een aantal mailadressen van helpdesks, mailinglijsten etc.
Balen dus.
Ik ga niet iedereen nóg een mail sturen, want wie weet is het voor een aantal ervan juist wel een reden om ook een account aan te maken. En bij deze mijn excuses als jij zo'n mail gehad hebt en er helemaal niet op zat te wachten.
Wel grappig overigens om te zien dat binnen een paar uur op zondagmiddag ik al 33 mails binnen had van mensen die de uitnodiging geaccepteerd hebben.