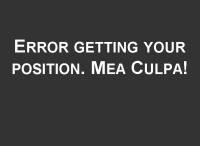 "You've arrived in a new city, a new continent, a new coffee shop. You don't really know where you are, and are looking for a good place to eat. You pull out your laptop, fire up Firefox, and go to your favorite review site. It automatically deduces your location, and serves up some delicious suggestions a couple blocks away and plots directions there.
In order for this to be a possibility, your browser needs to know where you are."

(bron)
Het is een concept dat inmiddels al niet nieuw meer is: in plaats van het GPS signaal, kun je natuurlijk ook je locatie bepalen op basis van het WiFi signaal. Zolang je 'weet' waar een bepaalde wireless router zich bevind, dan kun je iemands locatie bepalen op basis van de router waar zij op dat moment mee verbonden zijn.
In theorie dan, want Geode maakt gebruik van de Loki technologie van Skyhook en die hebben alleen dekking in de VS en Canada. Van de routers in Europa, laat staan Nederland, is die informatie blijkbaar nog niet op deze manier ontsloten.
Alleen jammer dat ze het ook niet mogelijk maken om die informatie zelf in te voeren. Toen ik, na het installeren van de plugin naar deze pagina ging, kreeg ik het bericht dat mijn locatie niet bepaald kon worden en 'moest' ik mijn eigen gegevens invullen.
Die informatie wordt dan echter niet in de LOKI database opgeslagen en ik moest het de keer daarna toch gewoon weer zelf invullen.
Maar zoals TomTom haar gebruikers inzet voor het melden van veranderingen/fouten op de kaart, zo zou je dat hier ook kunnen doen door de gebruikers hun router zelf op de kaart te laten zetten. Toegegeven, introduceert een grote kans op misbruik en fouten, maar het is waarschijnlijk beter dan niets.
Toch de vraag maar even gesteld of er plannen voor dekking in Europa/Nederland zijn.