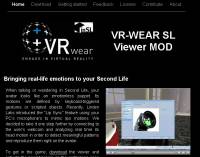 "When talking or wandering in Second Life, your avatar looks like an emotionless puppet. Its motions are defined by keyboard-triggered gestures or scripted objects. Recently, Linden Labs introduced the 'Lip Sync' feature using your PC's microphone's to mimic lips motions. We decided to take it one step further by connecting to the user's webcam and analyzing real time its head motion in order to detect meaningful patterns and reproduce them right on the avatar."

(bron)
Sinds gisterenmiddag is hij er. De VR-WEAR SL Viewer MOD. Een aangepaste versie van de Second Life viewer waarbij je je webcam kunt gebruiken om je Avatar wat meer uitdrukking te geven. Deze versie zou een aantal bewegingen van je hoofd moeten kunnen herkennen en dan omzetten naar bewegingen van je avatar. Tot nu toe zou dat moeten zijn: brede glimlach, verbaasd kijken, ja knikken, nee schudden, hoofd links op je schouder en hoofd rechts op je schouder.
Je merkt, ik heb het over 'zou moeten zijn', want ik heb deze 0.99 beta1 nog niet helemaal goed aan de praat gekregen. 'Installeren' is het probleem niet. Je hoeft namelijk alleen maar de viewer te downloaden en in een willekeurige map op je computer uit te pakken. Is dus ook weer zo te verwijderen als het niet lukt. Na inloggen moet je bij de settings dan de webcam activeren.
Ik ben er nog niet in geslaagd Peter McAllister met enige betrouwbare samenhang tussen zijn en mijn hoofdbeweging te laten bewegen. Op mijn werklaptop heeft deze versie van de viewer problemen en crashed meestal direct bij het opstarten met een C++ error. Op de tabletPC draait hij wel goed én beweegt Peter met zijn hoofd, maar de bewegingen komen meestal niet overeen met mijn bewegingen.
Daar komt bij dat het precies goed voor de webcam gaan zitten niet gemakkelijk is. Het wachten is nog op de volgende versie waar je de webcam kunt calibreren. Ik neem aan dat dat dan zoiets wordt als bij de Logitech camera's waar je de 22 beeldpunten die de software gebruikt op je gezicht ziet verschijnen als je goed zit.
De software heeft dus nog wel een aantal stappen te gaan, maar het idee blijft grappig.