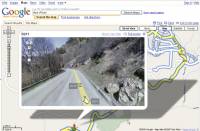 Ik had dit bericht ook als titel kunnen meegeven: "de Alpe d'Huez op in je luie stoel". Google heeft namelijk voor het eerst ook plaatsen buiten de Verenigde Staten voorzien van Street View foto's. Google heeft daarvoor de etappes van de Tour de France 2008 gekozen. Die kun je allemaal in Street View bekijken.
Street View maakt het mogelijk om, op plekken waar het beschikbaar is, 360 graden foto's te bekijken van de plek in Google Maps of Google Earth. Doordat die foto's aan elkaar gelinkt zijn, kun je door steeds op de pijltjes in de foto te klikken vooruit of achteruit bewegen. En dan is het alsof je de route zelf aflegt. Het effect was met mijn toch niet langzame draadloze verbinding hier thuis niet optimaal overigens omdat het laden van elke nieuwe view toch even duurt.
Wil je het zelf uitproberen? Thomas Vergouwen heeft voor Google Earth een KML-bestand gemaakt met alle etappes: Tour de France 2008 (KML). Dat kun je openen in Google Earth en dan zie je meteen waar je op zoek moet naar de foto's. Kijk wel even linksonder bij de lagen (layers) in Google Earth of je Straatweergave (Street View) aan hebt staan.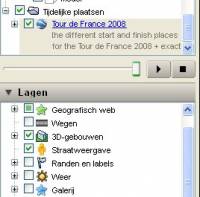 In Google Maps zijn de foto's ook zichtbaar. Via deze link ga je rechtstreeks naar de top van de route naar de Alpe d'Huez.
Ik heb die route een stuk naar beneden gevolgd, leek me gemakkelijker dan berg op. Grappig was dat het navigatie mechanisme van steeds op het pijltje klikken om vooruit te komen hier niet altijd werkte. In een aantal bochten schiet je dan uit de bocht en moet je bijsturen. Het zal niet zo bedoelt zijn, maar het geeft je wel een bijpassend gevoel.


(getipt door Google Earth Blog)
Ik heb de NL spelling van parcours maar even aangepast