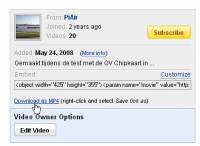 Het is een onderwerp dat regelmatig voorbij komt: hoe kun je YouTube filmpjes downloaden?
Toch was dat niet de aanleiding voor deze post. Ik kwam namelijk terecht bij deze post van Torley Linden over Hoe speel je YouTube filmpjes af in Second Life?
Nou blijkt dat wat Torley daar uitlegt niet helemaal te kloppen, maar dat is niet zo erg.
Het is altijd het beste om filmpjes rechtstreeks van de bron te downloaden. Nou zijn er download sites zoals Filsh.net die conversies naar een veelvoud van formaten kunnen uitvoeren, maar als het gaat om een eenvoudige download in zo hoog mogelijke kwaliteit, dan kun je ook rechtstreeks bij YouTube zelf terecht. Deze post beschrijft hoe je via een bookmarklet (een link/knop in je favorietenbalk) of een stukje script in Firefox eenvoudig toegang kunt krijgen tot een MP4-versie van de video die je op YouTube ziet. Die kun je dan rechtstreeks downloaden vanaf YouTube. Voordeel is dat die MP4 gemaakt is op basis van de originele video en niet op basis van de FLV (Flash versie).
Als je een nieuw filmpje toevoegt aan YouTube dan kan het even duren voordat je ook de MP4-versie kunt downloaden, maar ik kon zelfs van het filmpje dat ik bijna drie jaar geleden toevoegde een MP4-versie downloaden van hogere kwaliteit dan de versie die je online kon zien.
Dan toch nog even terug komen op die post over Second Life: de daar beschreven methode werkt niet omdat de URL die het bookmarklet maakt maar een beperkte tijd 'werkt'. Dan moet je hem opnieuw laten genereren. Niet handig dus voor een permanent videoscherm in Second Life.
Daarnaast wil het nog wel een beetje van de totale omvang van de video afhangen hoe snel hij dan begint af te spelen. Het is geen streaming quicktime wat je krijgt.
Het beste is dus eigenlijk nog steeds om die MP4-versie te downloaden, te converteren naar streaming quicktime en dan vanaf een streaming server in Second Life aan te bieden.
Converteren zul je sowieso moeten doen als je het MP4-bestand wil afspelen op een iPod of wilt gebuiken in een PowerPoint of OpenOffice Impress presentatie. Want daar kun je het MP4-bestand anders niet gebruiken.