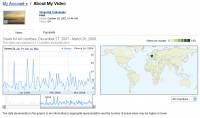 "I remember the first time a video I posted to YouTube cracked 100 views. I wasn't so much surprised as curious: Who were these people? How did they find this video? Where did they come from?
Today we're taking our first step towards answering these questions with YouTube Insight, a free tool that enables anyone with a YouTube account — users, partners, and advertisers — to view detailed statistics about the videos that they upload."

(bron)
Je kunt vanaf nu dus iets meer meer te weten komen over de mensen die naar je video's op YouTube kijken. Iets, maar nog niet veel. Ik zie een kaart met vlekken en als ik inzoom zie ik dat de meeste kijkers uit Nederland komen. En ernaast kan ik op een grafiekje inzoomen waarmee ik zie dat er soms meer en soms minder (vooral minder bij mijn filmpjes uiteraard) kijkers waren.
Het is ook niet zozeer dat ik bij andere video sites meer info krijgt, maar gezien de uitspraken van YouTube zelf over dat je nu echt meer te weten zou komen over de bezoekers ben ik benieuwd wat ze er nog in stap 2 en 3 van hun implementatie aan toevoegen.
Je komt er overigens door te kiezen voor de "Account" link boven in het scherm en dan voor "Videos, Favorites, & Playlists" (onder het kopje Manage My Videos) en dan de knop "About this video" rechts naast de video waar je de statistieken van wilt zien.
En ik moet toegeven, de grafiek links heeft een strakke interactie. Inzoomen of een ander bereik kiezen gaat heel intuïtief.