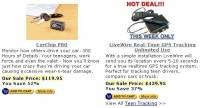 Ik klikte niets vermoedend door vanuit een bericht getiteld "Speel zelf Blik op de weg met de CarCam Voyager". Dat ging over een handige compacte videocamera die je op je dashboard kunt zetten. De link naar de verkoper bracht me bij deze site van Brickhouse Security. Daar viel mij blik echter al heel snel op de aanbiedingen onder aan de pagina. Die leiden namelijk naar een pagina die heet "Teen Tracking: Prevention and Protection" met als verklarende tekst: Your children and teenagers are subject to dangers every single day. As a parent or guardian, it is your job to protect them from those dangers. From online predators, to hanging out with the wrong crowd in places they shouldn't be in the first place, our teen protection and child safety measures will ensure complete protection and prevention for them every day.
Producten die ze aanbieden:
* GPS Tracking Provides Instant Feedback
– Locate Vehicle Online
– Speeding Alerts via phone or Email for Speeding and Unapproved Locations
* Cell Phone Spy – Recover Deleted & Secret Messages
* Sex/Drug Test – Discover activity, establish a dialouge with your teen, and act before its too late
* KeyLogger – Know Everything that Happens Online
Mooi vind ik dat stukje "establish a dialouge" daarbij. Hoeveel dialoog is er mogelijk als je dit soort hulpmiddelen nodig hebt?