Wiki met de resultaten van een Impuls Digitaal project getiteld "Kun je me horen? Ondertiteling en Web 2.0". Zie ook dit toelichtend bericht.

Soms zeg je dingen die je je eigenlijk had voorgenomen had om niet te zeggen en blijk je daarmee ook nog een enorme flater te slaan op de koop toe. Voor dat laatste bestaat in het Engels de mooie term 'foot in mouth'.
Bij deze dus voorlopig geen vermanende vingertjes meer over gebruik van materiaal van anderen door anderen. Ik had niet goed gelezen.
Is me natuurlijk al eens eerder overkomen, het zal me dus ook wel niet weerhouden dat vaker te doen.
Lees dan maar liever dit bericht van D'Arcy Norman over hoe het wél moet.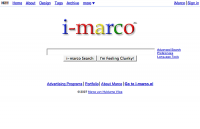 "This post is about the world's most popular homepage. It's a really simple page but it's done remarkably poorly in terms of frontend web development. It's pretty much beyond me how a multi billion corporation manages to make such a poor effort when it comes to the most visited webpage on the planet."

(bron)
Daar waar het mij afgelopen week vooral om het uiterlijk van de Google zoekpagina ging, keek Marco van Hylckama Vlieg (overigens werkend voor Yahoo! Europe) naar het innerlijk van de meest gebruikte zoekpagina ter wereld.
Hij beschrijft wat er allemaal wel niet goed is aan de wijze waarop de pagina opgebouwd wordt, ook al heeft hij begrip voor de mogelijke verklaring er voor. De Google pagina ziet er namelijk in elke browser (jong en oud, met alle features aan of uit) bijna exact hetzelfde uit.
Toch kan hij het niet laten om een betere pagina te ontwerpen die bijna net zo goed aan die vermoedelijke eis van Google voldoet. En hij beschrijft hoe hij dat zou doen.
Grappig natuurlijk die wens van mensen om het product van de concurrent te verbeteren.