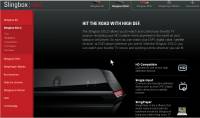 Het slechte nieuws gisteren was waarschijnlijk voor anderen goed nieuws: UPC is eindelijk klaar met de uitrol van haar nieuwe UPC on Demand dienst naar al haar klanten. En daarom wordt mijn gratis "goedmakertje" per eind deze maand stopgezet. De afgelopen 6 maanden beschik ik namelijk over gratis toegang tot Film1. Een zenderpakket van 3+1 zender met films. Niet on demand overigens, maar wel 24 uur per dag, zonder reclame én gewoon op te nemen op de harde schijf recorder. Kost normaal gesproken 12,99 euro per maand extra. Dat heb ik er niet voor over want het zijn zeker niet alleen recente films. Maar als het gratis is….
Via Frankwatching werd ik gewezen op de betrokkenheid van UPC bij de Uitmarkt in Amsterdam én het feit dat je tot 1 oktober een viertal uitzendingen van die je nu nog via UPC on Demand (zoek even onder het menu Muziek > Uitmarkt) kunt bekijken.
Kijk, dat zouden ze nou vaker moeten doen, dit soort programma's moet je eigenlijk gewoon op het moment dat het jou uit komt kunnen opstarten en bekijken (zoals nu tijdens het typen van dit bericht). Het brengt de keuzevrijheid die je op internet hebt naar je TV.
In mijn reactie op het bericht kun je lezen dat het ook niet altijd meteen perfect gaat, maar dat is een kwestie van tijd en uitproberen.
En nu komt UPC met de Slingbox. Met de Slingbox (schaf je eenmalig aan, daarna geen abonnementskosten) kun je via internet vanaf je pc, laptop of mobiele telefoon toegang krijgen tot de content op je mediabox, de instellingen daar aanpassen en live televisie kijken. Het gaat hier om de Slingbox Solo. De introductieprijs van 99 euro (daarna 150 euro) is zeker niet hoog vergeleken met de prijzen in de VS.
Interessant, maar blijkbaar ook met een belangrijke beperking. In de FAQ van Slingmedia staat:
"# What happens if I am using the Slingbox, and someone at home is watching TV at the same time?
# In most situations, both of you will be watching and controlling the same device. However, the Slingbox™ PRO, TUNER and CLASSIC have an internal tuner, so for standard cable (coaxial) inputs, you can set-up your Slingbox™ to watch either your TV, DVR, etc. while the remote user watches standard cable (or vice versa). In addition, many customers connect the Slingbox to a secondary TV or a secondary TV source in another room to avoid remote conflicts."

(bron)
Ook met die beperking denk ik dat ik hem wel wil hebben, al was het maar voor het gemak van het op afstand instellen van de recorder. Dan moet ik er alleen nu écht voor gaan zorgen dat ik een netwerkaansluiting bij mijn TV krijg.
brrr. Ik zie net een grote volwassen man zichzelf door een tennisracket (zonder snaren, dat wel) heen wringen. Ongelofelijk.
[update] Vergeet ik nou helemaal te vermelden dat je via het kanaal van 3voor12 via UPC tijdens het programma White Noise zelf trefwoorden voor de foto's die van Flickr worden opgehaald kunt ingeven.
Helaas is dat nog niet 'on demand' dus kan ik dat nu niet uittesten.