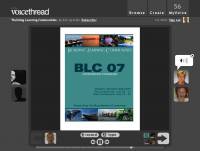 Ik ben nog niet veel verwijzingen naar VoiceThread tegen gekomen op Nederlandse blogs. Toch bestaat het al een tijdje. En hoewel dit voorbeeld bij Bob Sprankle al wat ouder is vond ik het een vermelding waard.
Wat is VoiceThread?
Je kunt het beste deze VoiceThread bekijken waarin wordt uitgelegd wat een VoiceThread nou eigenlijk is.
Heel kort samen gevat: je zet een aantal foto's online en kunt er dan audio of tekstcommentaar aan toevoegen.
Daarnaast kun je anderen toestaan er ook commentaar aan toe voegen. De commentaren komen op een tijdlijn waardoor er een soort opeenvolging van reacties ontstaat.
Wat kun je er mee?
Bob Sprankle gebruikte het om foto's van de BLC07 conferentie online te zetten. Hij geeft een kort introductie bij de eerste foto en je ziet daar ook al een drietal anderen die gereageerd hebben.
Standaard speelt hun tekst en audio automatisch volgens de tijdlijn af, maar je kunt ook op het icoontje van een persoon klikken om direct naar hun reactie te gaan.
Wil je zelf op een gegeven moment een tekst of audio reactie toevoegen dan klik je tijdens het afspelen op de "Record" of "Type" knop. Je moet wel een account aanmaken bij VoiceThread, dus dat maakt de drempel om onzin toe te voegen net wat groter.
Het aantal mensen dat gereageerd heeft is niet zo heel groot, maar het laat wel zien dat het vaak ook anderen kunnen zijn dan de fotograaf zelf die interessante of informatieve reacties kunnen plaatsen.
Overigens: bij Willem Karssenberg wordt in een reactie aangegeven dat het niet over een proxyserver zou werken. Iets om rekening mee te houden. Ik weet overigens niet hoeveel andere op Flash-gebaseerde zaken daar dan ook niet werken.