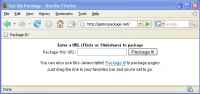 De kans is groot dat je de site nog niet kunt bereiken, de verf op de domeinnaam is namelijk nog nat, maar je kunt het natuurlijk altijd even proberen: http://getmypackage.net/ is namelijk de nieuwe verwijzing naar het script waar ik vorige week en deze week aan gewerkt heb en over vertel in de EduKast aflevering van vandaag. (hmm, dat is lekker cryptisch). Als je site kunt bereiken zie je daar een scherm vergelijkbaar met de schermafdruk hiernaast. Je kunt in het invulveld een URL plakken. Die URL kan verwijzen naar:
* 1 foto op Flickr, of
* 1 set met foto's op Flickr (max. 100 foto's worden ineens verwerkt) óf (en dat is nieuw)
* 1 presentatie bij Slideshare.
Het resultaat bevat dan een IMS Contentpackage met daarin één of meerdere HTML-documenten + een imsmanifest.xml bestand met daarin de bijbehorende metadata.
Dat package kun je dan in een aantal leeromgevingen toevoegen, waaronder in ieder geval Natschool en Moodle (die twee heb ik nu effe zo kunnen testen).
Via Natschool (of Fedora, maar dat kan ik niet testen) zijn de packages, inclusief metadata ook in LOREnet zichtbaar te maken, maar of dat ook voor de Slideshare packages helemaal gaat lukken weet ik nog niet, dat weet ik morgenvroeg als de harvester van LOREnet weer is langs gekomen. Lees verder….