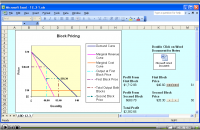 "This is

my latest effort

, a mini-lecture on 'Block Pricing', a particular type of price discrimination. I'll discuss briefly on technology/implementation issues and then another brief discussion on pedagogy."

(bron)
Larry Arvan schrijf in dit bericht over zijn ervaringen met het maken van mini-lessen met behulp van een screencast gemaakt met Camtasia. Het bericht is op zichzelf al interessant omdat het een mooi overzicht geeft van zijn reden om zo'n screencast te maken, de verschillende afwegingen en de zaken waar hij tegenaan liep. Mij lijkt dat, als je als docent twijfelt over het beginnen hiermee, dit veel meer overtuigd dan wanneer ik bijvoorbeeld zeg dat het heel eenvoudig is.
Daarnaast is de screencast zelf ook gewoon een mooi voorbeeld van een compact brokje lesmateriaal, met een opdracht waar de studenten/leerlingen zelf mee aan de slag kunnen. Je zou overigens ook kunnen besluiten om dat laatste stukje met de opdracht niet in de screencast te stoppen zodat hij nóg breder herbruikbaar is.