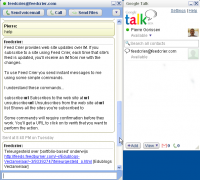 Na het bericht over Anothr.com van gisteren, heb ik vandaag toch nog eens even naar het maken van Bots voor Skype gekeken. Daarbij kwam ik deze aardige video-introductie tegen. Ik heb de bronbestanden gedownload en moest eerst de ActiveS-bestanden downloaden voordat ik ze met SharpDevelop kon compileren en testen. Op zich werkt het heel mooi. Het voorbeeld laat zien hoe je een C#-applicatie maakt die je op een Windows PC/Server in combinatie met een Skype-client laat draaien. Vergelijkbaar met wat Anothr.com doet. Knullig blijf ik vinden dat Skype niet gewoon een set DLL's of Classes beschikbaar stelt die je kunt integreren in je Bot. Of iets waarmee je dit soort code ook vanuit PHP of zo op een server kunt laten draaien. Maar ja. De demo Bot was een aardige demonstratie van de mogelijkheden. Je kon er via de chat eenvoudige berekeningen mee uitvoeren én webservices die door anderen beschikbaar gesteld worden aanroepen. Ik zag opeens allemaal mogelijkheden van koppelingen van Skype en onze Natschool-server, een chat-bot waarmee een student de stand van zaken rond de beoordeling van zijn/haar portfolio kan opvragen of waarmee een coach een seintje krijgt als er nieuwe assessmentdossiers zijn ingediend.
Maar de demo Bot had dezelfde "traagheids" problemen als dat ik bij Anothr.com gemerkt had. Ik weet dus niet of dat een generieker probleem van Skype is dan dat het aan deze specifieke bot lag/ligt.
In de reacties op het bericht op MarcNext verwijst Marjolein Hoekstra o.a. naar FeedCrier waarmee je RSS-feed via AIM/MSN/Jabbr/Google Talk kunt volgen. Werking is ongeveer vergelijkbaar, maar de responses komen een stuk sneller binnen zo lijkt het. Ik ga in ieder geval maar eens de RSS-feed voor de reacties op dit bericht er aan toevoegen, eens kijken hoe het bevalt. Wordt ongetwijfeld nog vervolgd.