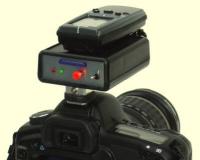 "

The Jelbert GeoTagger

connects to a Garmin Geko 301 GPS device and fits into a DSLR's flash shoe. Every time you take a photo the camera triggers the geotagger, which records the precise position and heading of a camera using the GPS device."

(bron)
Als ik dit soort berichten lees en dan de bijbehorende foto zie dan kan ik niet anders dan glimlachen. OK, ik neem echt aan dat als je bijvoorbeeld voor makelaars of zo, (semi-)professioneel foto's maakt waarbij je de geocoding-informatie nodig hebt, je wellicht met zo'n ding op je fototoestel wilt gaan rondlopen. Maar kijk eens naar dat kastje (in de grote weergave), twee ledjes, een schakelaartje, een sleuf voor een SD-kaartlezer. Het ziet er uit als een doorgeschoten hobby-project en de functionaliteit van kastje + GPS-ontvanger er bovenop zou gewoon in een kleine chip in het toestel moeten zitten. Nou ja, maar een afwachten hoe lang het nog duurt voordat ik kan schrijven dat dat 'gewoon' geworden is.