Google Adsense levert soms wel heel aparte advertenties op.
Neem bijvoorbeeld de set die ik zojuist voorgeschoteld kreeg bij EduKast aflevering 126 van gisteren. Als je op de afbeelding klikt krijg je een grotere versie te zien.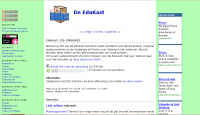 Nou, je hoeft niet naar Planet.nl te gaan om mij te (be-)luisteren, te downloaden of te branden (?). Daarvoor kun je gewoon naar de Edukast-website, of naar Podfeed.nl of via iTunes om maar iets te noemen.