Vandaag de Olympus WS-310M voicerecorder die we besteld hadden op gaan halen. En het is een mooi apparaatje.
De foto's op de Olympus-website laten niet echt zien hoe klein hij wel niet is.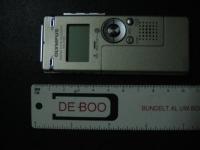 Mijn foto is wat korrelig (zonder flits bij slecht licht), maar de meetlat ernaast laat hoop ik wat beter zien dat het een klein dingetje is. De twee helften kunnen uit elkaar en dan zit er een USB-aansluiting aan waarmee je hem aan je pc of laptop kunt hangen.
De Olympus heeft een ingebouwde stereomicrofoon en een speakertje zodat je ook zonder externe microfoon of headset kunt opnemen en afluisteren. Je kunt er een headset op aansluiten (meeluisteren tijdens opname is dan ook mogelijk) en een onversterkte microfoon. Het werkte zelfs met een gewone headset van een computer.
Opslagcapaciteit van deze Olympus is 510MB en dat is genoeg voor 17 uur en 40 minuten opname bij 44 kHz, 64 kbps.
Helaas was de verkeerde dasspeldmicrofoon bijbesteld (verkeerd stekkertje, nog een maatje kleiner), dus daar moet ik nog even op wachten. Dat is jammer want dat betekent dat die net niet op tijd binnen is voor de eerstvolgende presentatie die ik zelf moet geven over hergebruik van toetsmaterialen.
Maar voor mij in ieder geval geen lawaai van gierende harde schijven als ik de volgende keer een opname van een presentatie wil maken.