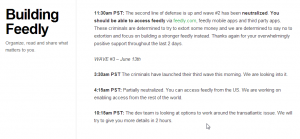 Vandaag is het al weer de derde dag op rij dat Feedly plat gelegd wordt door een of meerdere criminelen. Het dreigement: betaal ons of we zorgen er voor dat Feedly onbereikbaar wordt.
Hoe ze dat doen? Via een DDoS-aanval, een Distributed Denial of Service aanval. Wat dat is kun je in het filmpje hieronder het bericht zien.
Voor de duidelijkheid: in het filmpje gaat het o.a. over reputatieschade. Dat klopt helaas ook in dit geval. Er zijn mensen die het "slecht" vinden dat Feedly deze aanvallen niet sneller/beter kan afslaan. De redenatie is dan dat de "grote jongens" dat wel kunnen, dus Feedly heeft de zaakjes vast niet op orde.
Ikzelf maak me vooral boos op die persoon of personen die deze aanvallen veroorzaken. Want het is gewoon een smerige manier van afpersen.
Ik kan me ook boos maken over de schijnbare ongrijpbaarheid van dit soort criminelen. Is daar niet iets op te verzinnen? Is het niet mogelijk om een DDoSDN (een Distributed Denial of Service Detection Network) te maken van vrijwilligers die hun systeem toevoegen en zo een gedistribueerd netwerk vormen van nodes die op online op zoek gaan naar de bron?
Ik begrijp dat het uitschakelen van de nodes van zo'n DDoS netwerk wat vragen oproept qua legaliteit, maar op het moment dat ze actief bij een aanval betrokken zijn, dan lijkt me toch dat justitie/politie moeten kunnen ingrijpen? En dat ze daarbij de hulp inroepen van "gewone burgers" moet wettelijk toch ook kunnen?
Lees verder….