Ik verwees bij mijn review van de ClassMate PC afgelopen week al naar de ASUS Eee PC T91 die op het punt staat in de VS de verschijnen (en in Nederland al in het Makro krantje staat voor 415,31 euro inclusief BTW)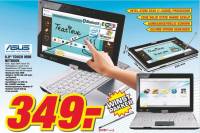 Ik kwam vandaag drie reviews tegen:
* Bij Gizmodo
* Bij Liliputing
* Bij GottabeMobile
En in alle drie de gevallen waren de reviews niet echt heel erg positief. Ik heb een paar van de uitspraken bij elkaar gezet.
"There are two things that set the Eee PC T91 apart from other Asus netbooks (and most netbooks in general). First, it's tiny, measuring just 8.9″ x 6.5″ x 1.1″ and weighing just over 2 pounds. In fact, the netbook is a little smaller than the company's first netbook, the Eee PC 701, even though that model had a 7 inch display while the Eee PC T91 has an 8.9 inch screen."

(bron)
"If there's a specific reason you want a Windows XP tablet with a crampy screen that doubles as decent last-gen netbook with a crampy screen, then for $500, the T91 might be your ticket. But if you're just aching for a cheap touchscreen tablet to dick around on the internet, you'd be better off waiting for the $300 CrunchPad. The T91 was much better as the glimmer of hope in our eye at CES."

(bron)
"The netbook is primarily being targeted at business and educational markets at launch, which means it will go head to head with the CTL 2Go PC convertible tablet I reviewed earlier this year, as well as other netbooks based on the Intel Classmate PC reference design. And between the T91 and the Intel Classmate, the T91 is smaller, better looking, and overall has a more professional look."

(bron)
"Asus includes a small, collapsible stylus that is good for pointing your way around the screen, but if you're looking to do some Inking, this is not the device for you. While I was not surprised that Inking wasn't an optimal experience here, it is puzzling given the note taking app that features some lovely handwriting on its example pages."

(bron)
Hij is dus klein (goed voor de omvang, slecht voor het toetsenbord), niet goedkoop genoeg (maar ja dat zegt Gizmodo en die zijn bevooroordeeld), je kunt er niet goed genoeg op schrijven (als gevolg van het soort scherm en Windows XP). Hij ziet er weliswaar niet zo op kinderen gericht uit als de ClassMate PC, maar heeft de reviewers nog niet voor zich kunnen laten vallen.
Nou zou ik het helemaal niet erg vinden om met een ClassMate PC gezien te worden hoor. Ik zou er mijn eeePC 901 meteen voor inruilen (en er dan Windows 7 op installeren, maar dat terzijde). Dus ik ben uiteraard heel nieuwsgierig naar deze eeePC en of hij echt zo matig is. Ik kan me voorstellen dat ook ik meer gecharmeerd zou zijn van de 10 inch uitvoering met multi-touch die er later dit jaar aan zit te komen, maar toch.
Ik heb geen contacten bij ASUS dus een review zit er waarschijnlijk niet in, maar als jij connecties hebt, stuur ze gerust mijn kant op!
[update 16-7-2009] JKKMobile heeft er nog een aantal gevonden (reviews) en heeft er zelf eentje besteld. Hij hoopt dat hij zijn 900a kan vervangen. Zijn belangrijkste verwachting: mobility.