"Mologogo is a free service that will track your friend's GPS-enabled cell phones from another phone or on the web. Combining Real-time Location Based Services, Social Networking and now Location Aware Chat, Mologogo continues to break new ground for mobile apps. Mologogo also serves as a dirt-cheap tracking system, so go ahead and fauxjack something."

(bron)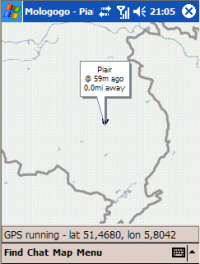 Mologogo is niet nieuw, maar ik was er nog niet toe gekomen om de alpha van de Pocket PC client te downloaden en te installeren. Maar die werkt verrassend goed. Het idee: gebruik een telefoon of Pocket PC met GPS-ontvanger om op ingestelde tijden je locatie door te sturen naar een server. Geef een kaart weer met jouw lokatie die zowel op het toestel zelf als via de website op te vragen is. Als je op de server vrienden aangeeft en die zijn in de buurt dan zie je dat ook op de kaart. Het lijkt er overigens op alsof ze ook de kaart op het toestel opbouwen met behulp van Google Maps, maar dan helaas met versie 1 van de API actief, dus dan blijft Nederland redelijk grijs.
Gelukkig kun je dat zelf (deels) oplossen. Lees verder….