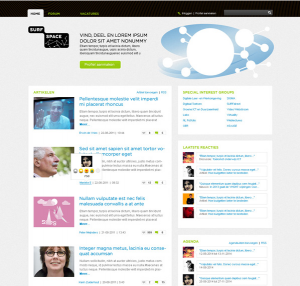 Of is het versie 3.0? Eigenlijk maakt de telling niet zo heel veel uit. Belangrijker is dat er een stevige doorstart aan zit te komen van de site die een portal vóór en dóór ICT Onderwijs- & Onderzoekprofessionals wil zijn. In de column "Een prachtige doorstart" blikken Tom Dousma en Marja Verstelle terug op de SURF e-learning themasite die SURFspace werd. Maar die nieuwe site is nooit echt dé sociale plek geworden die het had moeten zijn.
Het toevoegen van berichten was niet gemakkelijk, het vinden van de juiste informatie of de juiste mensen ook niet. En waar er voorheen géén RSS-feeds waren, werden het er nu zo veel dat het nog niet gemakkelijk was om een eenvoudig overzicht te houden van wat er gebeurde.
Ik ben dan ook heel benieuwd naar de vernieuwde site die morgen (20-12-2011) om 12:00 uur live gaat. Ik zal dan ook zeker een profiel aanmaken, en dan niet om één van de tien solarboompjes te winnen (leuk, daar niet van!), maar omdat ik hoop dat SURFspace weer hét platform wordt voor mensen die met ICT & Onderwijs of ICT & Onderzoek bezig zijn.