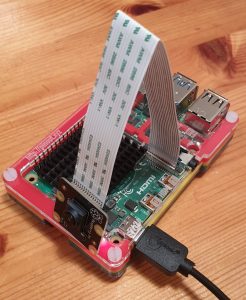 Niet alleen PoE, waar ik gisteren over schreef, ook de Raspberry Pi 4 was zo'n onderwerp waarmee ik hoognodig aan de slag wilde.  En er was natuurlijk maar één ding dat meteen in me op kwam om al die extra paardenkrachten mee te testen: beeldherkenning op basis van video met behulp van OpenCV, Tensorflow of een van de vele andere opties.
Een van de use-cases die ik voor ogen heb is een systeem dat kan tellen hoeveel fietsers er op een dag voor het I/O-gebouw in Nijmegen voorbij komen. Dat zal geen gemakkelijke worden vrees ik. Ook dit jaar hebben we daar het verschijnsel van de fietsfiles, maar mogelijk verplaatsten die zich zó dicht op elkaar dat ook slim systeem die niet kan tellen.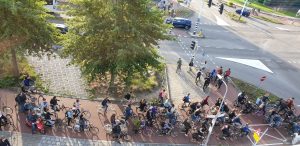 Een probleem bij de Raspberry Pi en het gebruik van OpenCV of Tenserflow is dat het (meestal) niet een kwestie van installeren is, maar dat je aan de slag moet met het van broncode af compileren van de omgevingen. Dat duurt op een Raspberry Pi in de regel heel erg lang en dan kan het zijn dat je na een uur of langer wachten tóch nog opeens een foutmelding krijgt. Dat je op de Raspberry Pi zowel Python 2 als Python 3 hebt en moet opletten wat je waar voor installeert én het gegeven dat de Raspberry Pi 4 gebruik maakt van Debian Buster, OpenCV ook een versie 3 en 4 heeft en geen van alles zomaar met elkaar samenwerkt, helpt dan ook niet.
Lees verder….