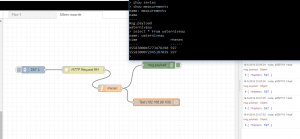 Ik kreeg via de mail een vraag over Node-RED en InfluxDB, maar had net even geen server beschikbaar met beide geïnstalleerd. Hoe kon ik nu testen of ik het probleem kon reproduceren?
Docker to the rescue!
Ik heb op mijn laptop Docker geïnstalleerd staan. Ik kan nu niet helemaal uitleggen wat Docker is en hoe je het installeert, zie daarvoor ook de eerdere berichten op dit weblog. Maar het installeren van een server met Node-RED was heel simpel.