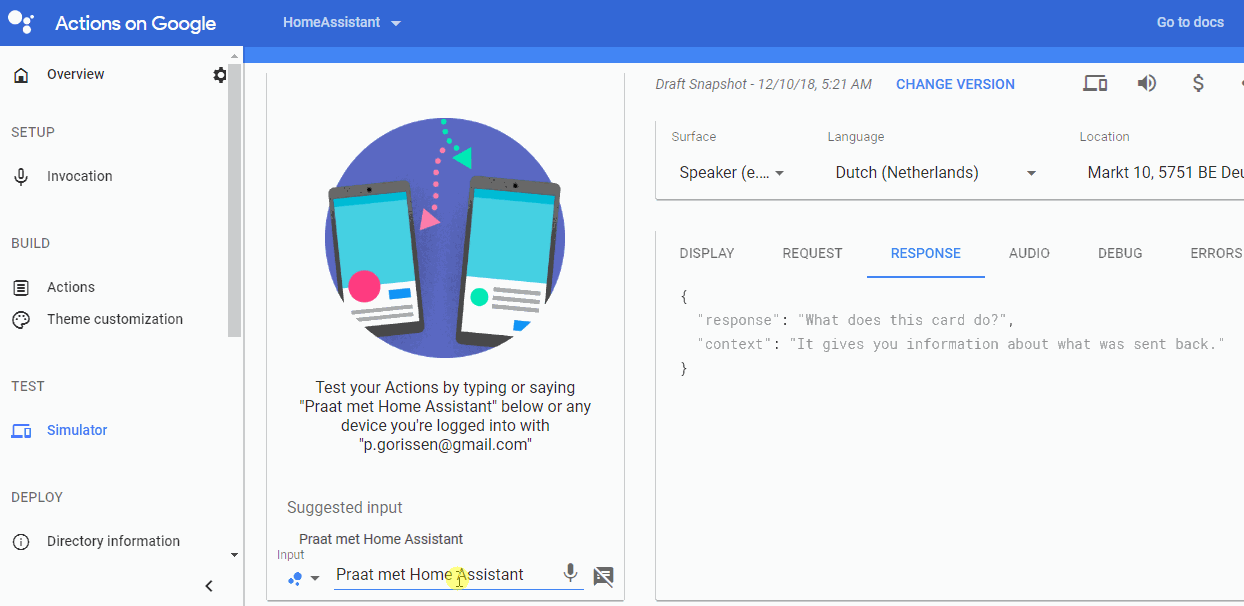 Toen ik besloot om de uitleg over mijn tweet van zondagavond op te knippen in drie in plaats van twee delen, was dat omdat ik vond dat na de uitleg over de terminologie in deel 1, het verstandiger was om eerst een eenvoudig voorbeeld uit te werken in deel 2. Maar dat heeft ook tot gevolg dat dit deel 3 een stuk eenvoudiger moet zijn om te volgen ondanks dat het resultaat dat zeker niet is.
De app van gisteren deed niet veel zinvols en had één intent (+ 2 ingebouwde) in totaal. Deze app combineert twee groepen vragen (in totaal 7 intents) in één app. Wat kun je doen?
Je kunt vragen of een van de familieleden thuis is of niet.
Je kunt vragen wat de temperatuur of de luchtvochtigheid is van een aantal sensoren in Home Assistant
Voor dit deel 3 ga ik er vanuit dat je deel 2, gelezen én nagebouwd hebt. Dat betekent dat je de Handmatige setup – deel 2 voor het configureren van Dialogflow uitgevoerd hebt, dat je een intent.yaml op je Home Assistant server hebt staan, dat je een webhook geconfigureerd hebt en die ook al eens succesvol gebruikt hebt (in je persoonlijke routeplanner). En ik ga er ook vanuit dat je al eens een app gemaakt hebt (als onderdeel van deel 2).
OK? Goed, dan aan de slag.