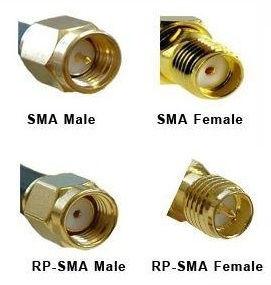 Als je een antenne wilt aansluiten op een node voor bv The Things Network dan heb je meestal een kabeltje van het printplaatje naar een SMA aansluiting waar je de antenne op vast draait.
Het is belangrijk om even goed te kijken of daar niet "RP-" (reversed polarity) voor staat, want die twee passen niet op elkaar.
Het idee is dus dat je een SMA Male (bv je antenne), mét pinnetje, aansluit op een SMA Female (het kabeltje naar je printplaat, zónder pinnetje). Heb je echter een RP-SMA antenne, dan heeft de antenne geen pinnetje en moet juist de aansluiting aan de kabel een pinnetje hebben.
Goed, kijk even naar de plaatjes: een SMA Male hoort bij een SMA Female en een RP-SMA Male hoort bij een RP-SMA Female. Andere combinaties gaan in het geval van zo'n antenne / kabel niet werken.
(als je dit nooit nodig gaat hebben in je leven, dan geen probleem, maar ik had een kabeltje stuk en moest een vervangend kabeltje vinden/bestellen)