Net op tijd voor de kerst gereed: kerstster van papier, handgetekend en geknipt door Marit. ATTiny85 met NeoPixel LED door mij. pic.twitter.com/dymLqbrpEP

— Pierre Gorissen (@PeterMcAllister) December 24, 2017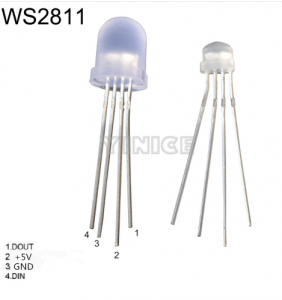 Het was zo'n projectje van Marit waarbij ik nog "even" de laatste details moest verzorgen: de NeoPixel LED die met dank aan een ATTiny85 en een knoopcelbatterij er voor zou zorgen dat de ster licht zou geven in wisselende kleuren. Ik had de LEDs besteld via deze leverancier op AliExpress maar de exacte aansturing was nog even puzzelen geweest de afgelopen weken (tussen alle andere werk door). De NeoPixel heeft als voordeel ten opzichte van een RGB LED dat je maar 3 aansluitingen nodig hebt op een processor, ook als je meerdere LEDs wilt aansturen. De 4e pin van een LED is namelijk de Data-out. Je stuurt de kleurcodes voor alle LEDs via 1 datapoort naar buiten en elke LED "pakt" alleen de kleurcode die voor hemzelf bedoelt is (de eerste code in de keten) en stuurt dan de rest door. Je sluit dus de Data-out poort van de eerste LED aan op de Data-in poort van de tweede LED etc.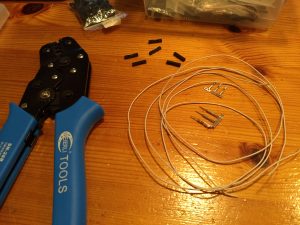 Nou had ik maar 1 LED en een knoopcel, dus geen gedoe met weerstanden etc.
Ontwerpvraag was of het geheel ín de ster kon hangen of erbuiten moest. Het papier bleek uiteindelijk dusdanig dun (wat handig was omdat het licht er dan ook doorheen gaat) dat het erbuiten moest. Dat betekende 3 draden de ster in. Het was daarna even zoeken naar de draden die niet te dik maar ook niet onhandelbaar dun waren.
Ik heb de pootjes van de LED in Dupont stekkers gestoken. Normaal koop je kabeltjes met de stekkers (mannetje of vrouwtje) er al aan, maar omdat ik draden nodig had van elk 50 cm lang, moest ik met de tang aan de slag. Soms vragen mijn kinderen zich af waarom papa zoveel spullen in huis heeft…soms begrijpen ze het… 🙂