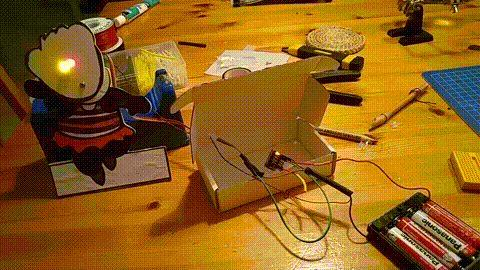 Vanaf het moment dat ik via Twitter het Paper Panda prototype voorbij zag komen, kwam het op mijn "eens keer uitproberen" lijstje terecht. Toen ik daarna (via deze tweet) een ander vergelijkbaar voorbeeld met een ballerina zag wist ik dat het dan een Panda Ballerina moest worden.
Omdat de kopertape nog niet binnen is, maar de ATtiny85 wél, kon ik aan de slag. Nou ja, ik, het werd een weekend familie project waarbij de ene helft van de familie het figuurzaagwerk voor haar rekening nam en de andere helft met de DigiSpark ATtiny85, een TowerPro SG90 servo en een paar LEDjes aan de slag ging om te kijken of we dat deel voor elkaar konden krijgen.
De deelresultaten:
Zoals je hierboven kunt zien zit het geheel inmiddels bijna in elkaar. Het boren van het juiste gat in het lijf (zodat de servo haast vanzelf vast klempt), de extra dunne en flexibele draad aan de LEDs en de programmering van de ATtiny85 werken in principe. De servo maakt nog niet helemaal de juiste beweging, dat betekent dat ik het aantal graden in de code nog moet aanpassen.
De twee LEDs zitten nu zonder weerstand in serie aangesloten. Ze zijn op het moment feller dan toen ik de schakeling met losse kabels opgebouwd had. Zal dus aan de weerstand van de verbindingen liggen. Voor wat betreft de kabels was het even kiezen tussen het gebruiken van een prototype-board alleen voor het netjes aan elkaar verbinden ervan of bij elkaar pakken, soldeer erover en krimpkousje. Het werd dat laatste.
Morgen dus herprogrammeren, het kabeltje van de batterijdoos die (grrrrr) afbrak in de doos netjes solderen (zit nu provisorisch vast), het gezichtje er op plakken, het geheel vast aan het doosje en dan is dit weekendproject officieel klaar (en het weekend voorbij).