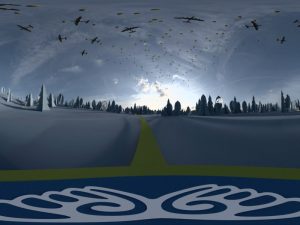 Ook deze week voldoende nieuws rond Virtual Reality / Augmented Reality om een kort overzicht te maken:
Tweede Wereldoorlog in virtual reality herbeleven met app
De app die de Stichting Liberation Route Europe ontwikkeld heeft (en komende week beschikbaar komt) heeft zo te lezen nog wat ruwe kantjes. Ik heb hem zelf nog niet gezien of bekeken, het filmpje dat bij De Gelderlander op de pagina staat speelde bij mij in de browser een beetje vreemd af als ik hem op de pagina zelf bekeek, maar op de YouTube-pagina zelf kon ik wél rondkijken.
Knulliger is het natuurlijk als bepaalde objecten (zoals de Eusebiuskerk) op de verkeerde plek blijken te staan (al zou ik dat als leek natuurlijk niet weten of merken).
VR Verjaardagskaart
De grafische kwaliteit van de VR verjaardagskaart die je via VRgifts kunt bestellen is zeker niet hoger dan van de vorige applicatie. Het idee lijkt heel leuk. In plaats van een "gewone" verjaardagskaart maak en verstuur je online een verjaardagskaart die bekeken kan worden met de meegestuurde cardboard viewer. Eerste probleem dat ik had: er is geen preview-optie voor de kaart. Dus als je geen idee hebt wat je gaat maken, dan blijft het een gok. Nou staat er bij Bright TV een filmpje online van hoe de oma van reporter Bram haar kaart bekijkt. Maar als ik dat goed begrijp dan is 90% van de ervaring voor iedereen gelijk. In de reclamefilm wordt gesproken over "foto's" maar ik leek maar 1 eigen foto toe te kunnen voegen. Kortom voor 10 euro wil ik wat meer vooraf weten. Ook nog werk in uitvoering vind ik.
Een heleboel moois van Oculus
Soms zou je vergeten dat Facebook de eigenaar is van de makers van de Oculus Rift VR set. Maar afgelopen week, tijdens de Oculus Connect developers conference kon je daar niet om heen, al was het maar omdat Mark Zuckerberg himself daar aanwezig was om producten aan te kondigen. Een aantal nieuwtjes:
HoloLens nieuws
Maar ook de HoloLens was deze week in het nieuws:
Leesvoer
Als laatste, de boekenlijst die Oculus voorschrijft voor haar medewerkers en indirect adviseert voor ontwikkelaars: