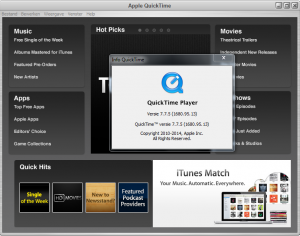 Toen ik het bericht gisteren las, dacht ik eerst "dat zal wel loslopen, voor de dag voorbij is komt Apple met een bericht dat ze natuurlijk wél met updates gaan komen".  Maar het is nu ruim 24 uur later en dat bericht heb ik nog niet gezien.
Waar gaat het over? Dit bericht zegt het allemaal heel duidelijk:
Urgent Call to Action: Uninstall QuickTime for Windows Today
Samengevat: Apple heeft de ondersteuning voor QuickTime voor Windows stopgezet (had ik nog niet gehoord) en TrendMicro heeft nu al 2 kritische problemen gevonden in de software. Die dus niet opgelost gaan worden en je kunt wachten op de eerste hacker die er gebruik van gaat maken.
Ik ben benieuwd hoe lang het duurt voordat de tool automatisch van mijn werklaptop verwijderd wordt. Maar hoeveel mensen hebben QuickTime op hun Windows machine staan en hebben deze berichten niet gezien? Of denken er gewoon niet aan om hem te verwijderen?
Eigen schuld, dikke bult, zul je wellicht zeggen. Maar het is ook een tool die ons de afgelopen jaren flink door de strot geduwd is. Ja, gratis, maar eigenlijk vaak onmisbaar om video's af te kunnen spelen. Zeker als ze door Apple zelf gepubliceerd werden.
En ja, je kunt niet van elke gratis tool leverancier verwachten dat die tot in het einde der dagen updates van tools blijft leveren. Maar Apple is natuurlijk geen hobbyist die een tool gratis beschikbaar stelt. Het is een enorm bedrijf dat nu een tool die lange tijd centraal onderdeel van haar pakket tools was en actief gepromoot werd (en op dit moment nog gewoon te downloaden is), niet meer bijwerkt. Heeft zo'n bedrijf dan niet ook een bepaalde mate van verantwoordelijkheid?
Ik ben er nog niet uit. Eigenlijk vind ik het in dit specifiek geval schandalig van Apple, maar het zal vast niet het enige voorbeeld zijn.