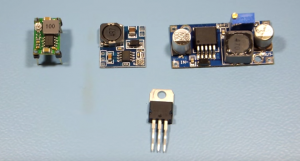 Waarschuwing vooraf: dit is een nogal technisch verhaal, maar zoals ik wel eens vaker uitleg gebruik ik dit weblog juist ook om onderwerpen te bewaren die ik maar heel af en toe nodig heb en dan hier zelf weer gemakkelijk terug kan vinden.
En andere waarschuwing: ik ben geen elektronica-man. Ik doe meestal maar wat, heb het over stroom die uit een stopcontact komt en zo. Dus "be kind!". 🙂
Ok, het verhaal dan. De afgelopen 2 weken had ik eindelijk weer eens tijd om met mijn Arduino's aan de slag te gaan (en ze in te zetten als weerstation en als schakelstation voor de kerstboom). Daarbij had ik ook een aantal ESP8266's binnen gekregen (waarvan er nu eentje als grondvochtigheidsmeter voor een plant hier in de woonkamer werkt). Maar Maar dat zorgde er ook weer eens voor dat ik te maken kreeg met de vraag: 5V of 3,3V?
Ik wist dat de Raspberry Pi op zijn GPIO poorten gebruik maakt van 3,3V. De Arduino gebruikt 5V. En de ESP8266 blijkt meer overeen te komen met de Raspberry Pi en gebruikt ook 3,3V voor de GPIO.
Als voedingsbron nemen ze echter allemaal 5V. Niet zo moeilijk als je daarbij gebruik maakt van dezelfde adapters als voor het opladen van je smartphone (gelukkig hebben alle drie de devices in mijn geval een micro-USB aansluiting).
Tot zover helder. Maar waar het dan even wat ingewikkelder wordt is als:
je een externe voedingsbron hebt die niet netjes 5V is (bv omdat je een accu of batterijen gebruikt)
je sensoren wilt gebruiken op de ESP8266 die 5V verwachten terwijl de ESP8266 maar 3,3V levert op de GPIO poorten of
je sensoren wilt gebruiken die een 5V datasignaal terug geven naar de ESP8266 (ook niet fijn)
je sensoren wilt gebruiken op een Arduino die een 3,3V datasignaal verwachten (terwijl de Arduino een 5V datasignaal geeft).